---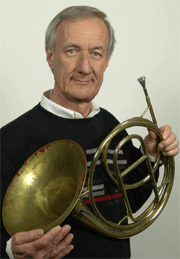 Prof. Dr. Dr. h.c. Wilfried Wackernagel
Carl von Ossietzky University Oldenburg
Institute of Biology and Environmental Sciences
Genetics Section
P.O. Box 2503
D-26111 Oldenburg
Germany
Pensioniert seit dem 02.09.2007 (Adresse, Telefonnummer, Fax-Nummer, E-Mail-Adresse und Sprechstunde sind unverändert. Das Büro befindet sich in W3 1-137a.)

Tel.: +49 (441) 798-3298
Fax.: +49 (441) 798-5606 or -3250
E-mail: wilfried.wackernagel@uni-oldenburg.de

Sprechstunde: Montag, 14.00-15.00 Uhr, W3 1-137a
Picture: Wilfried Wackernagel with a natural horn from his collection. This original instrument from ca. 1820 has the following punched in the bell:
*** COURTOIS NEVEU AINE RUE DES VIEUX AUGUSTINS A PARIS ***
---
Selected academic functions and activities
National (Germany)
Full Member of the National Board of Biological Safety (Zentrale Kommission für die Biologische Sicherheit, Berlin) advising the German Government on the safe use of gene technology
Full member of the National Committee on Biological Work Place Hazard (UA4; Ausschuß für Biologische Arbeitsstoffe)
Member of the Commission on Green Gene Technology of the German Academies of Sciences
International
Member of numerous international expert groups providing recommendations, critical evaluations and prelegislation reports on various topics including genetically modified organisms, food and feed safety, transgene spread etc.
Activities for Institute of Life Science (Europe) in Brussels, Vienna, Salzburg
Activities for WHO and FAO (Food and Agricultural Organization) in Geneva
Activities for Austrian and German Ecological Societies in Vienna and Hannover
Member of the international FEMS expert group on the use of gene technology in microbiology
University
Commissioner of Biological Safety of the University [Beauftragter für die Biologische Sicherheit (BBS nach GenTG)]
Chairman of the Commission for Assessment of Problems Resulting from Technical Applications and of Ethics of the University (Vorsitzender der Kommission für Forschungsfolgenabschätzung und Ethik)
Member of the Commission for Awarding the Doctoral Degree in the Faculty V (Mitglied des Promotionsausschusses der Fak. V)
Member of the Council of the Institute for Biology and Environmental Sciences (Mitglied des Institutsrates)
Dean of the Faculty of Biology and Environmental Sciences (2001-2003)
---
Honor
Awarding of the Doctor honoris causa by the President of the University Claude Bernard Lyon (France) on June, 27th, 2005